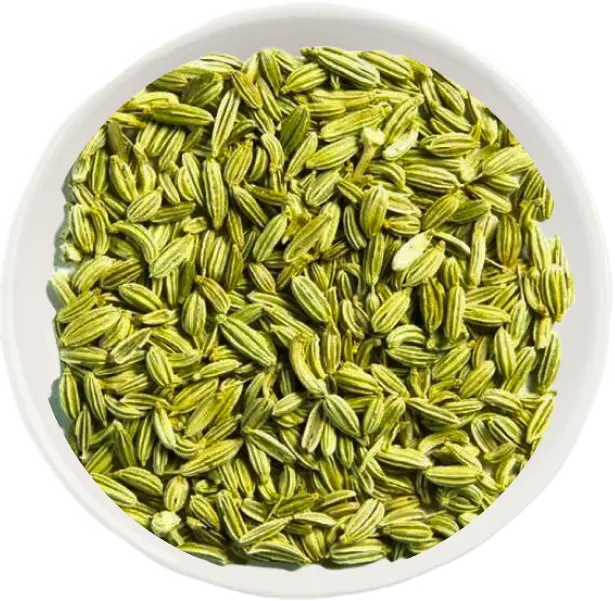 We are one of the leading and Prominent Fennel Seeds exporters and processors in India.  We offer a wide range of Fennel seeds having wonderful flavour along with medicinal and health benefits. Fennel Seeds are available in pale yellow–green colour to best very green colour.
Common name: Fennel  
Botanical name: Foeniculum vulgare Mill 
Family Name: Apiaceae  
Part used as Spice: Fruit 
DESCRIPTION 
Fennel is a biennial, aromatic, stout, glabrous, 1.5 to 1.8 meter high. The ripe fruit (seed) is small, oblong, cylindrical, 6.8mm long, straight or slightly curved, greenish-yellow, deeply furrowed, 5 ridged and has an agreeable aroma.   
ORIGIN AND DISTRIBUTION 
Fennel is a native of Europe and Asia Minor. It is cultivated extensively in Northern India as a cold-weather crop. The crop grows well in a mild climate. The dry and cold weather favours high seed production.   
Sourcing and Packaging:  Vora Spice Mills  sources the best quality Fennel seeds from reliable farmers across all growing states of India.  Raw material passes through state-of-the-art Buhler sortex machines to give the highest purity final product.  
We offer our customers 100gm to 50kg packaging with options for private labelling. 
The leaves of fennel are used for garnishing. Leaves and stalks are used in salads. It is an essential ingredient in Italian sausages, widely used to sprinkle on pizza. Dried fruits have a fragrant odour and pleasant aromatic taste and are used as a masticatory. They are also used for flavouring soups, meat dishes, sauces, pastries, confectionaries and liquors. The fruits are aromatic, stimulating, and carminative. 
Medicinal Properties of Fennel:  
Fennel acts as a stimulant, carminative, stomachic, emmenagogue, refrigerant, cardiac stimulant, antiemetic, aphrodisiac, and anthelmintic. The presence of Anethol in Fennel seeds helps in the fight against cancer and indigestion.  
Helps regulate blood pressure and reduces bloating of the stomach, and helps in digestion by stimulating the saliva. 

 

Reduce Asthma symptoms along with improving eyesight. It also helps relieve gases for those with redundant gastrointestinal problems.

 

Essential oil of Fennel seeds can be used for Antimicrobial activity against bacteria – Staphylococcus aureus and Bacillus subtilis.

 
The fennel seeds are good for treating joint pains, cough, sore throats, and bronchitis and also help in curing body pain.

 

Fennel seeds are widely used as a flavouring agent in many cuisines around the world. Due to their natural minty flavour, they are used as mouth fresheners. 

 
Country of Origin – India

 

Harvest Period – Rabi Crop (Feb/Mar)

 
Colour – Green to Pale green to greenish brown with minimal discolouration

 

Packaging – 10 KG, 50lbs, 25 KG (55lbs) Multiwall Paper Bags and HDPE BAGS

 

Labelling – Private labelling as per buyers' need

 

Shelf Life – 18 Months from Production Date

 

GMO Status – GMO-Free

 
Type – Kanpuri/Singapore/Europe

 

Purity – 97% / 98% / 99%

 

Total Ash – 10% Max

 

Acid insoluble Ash – 1.25% Max

 

Flavour – Aromatic sweet

 
Moisture – 10-11 % max

 

Salmonella – Absent/25 gms

 
Hindi : Saunf, sonp
Bengali : Pan, Muhiri, Mauri
Gujarati : Variari
Kannada : Badi-sopu
Malayalam : Perum jeerakam
Marathi : Badishep Punjabi : Saunf
Sanskrit : Madhurika
Tamil : Shombei
Telugu : Sopu, Pedda-jilakara
Spanish : Hinojo
French : Fenouil
German : Fenchel
Swedish : Fankal
Arabic : Shamar
Dutch : Venkel
Italian : Finocchio
Portuguese : Funcho
Russian : Fyenkhel
Japanese : Uikyo
Chinese : Hui-Hsiang