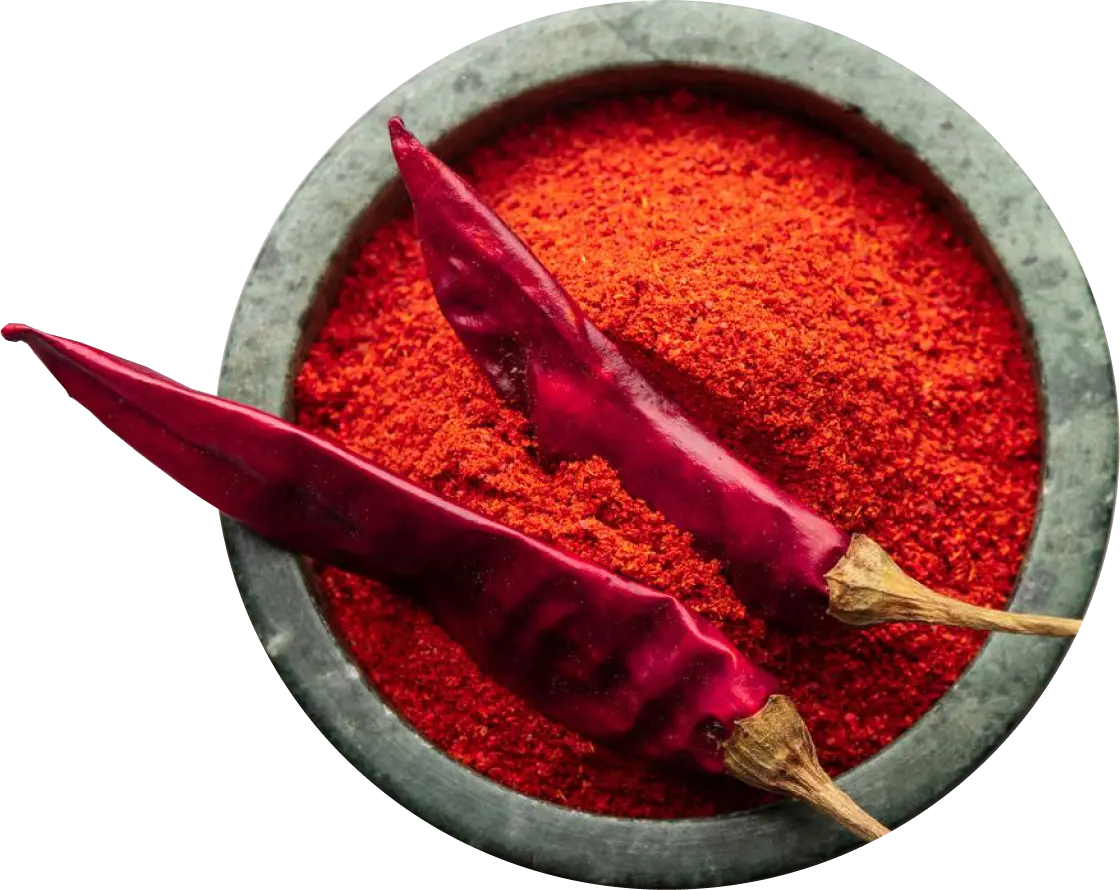 Red Chilli Exporters in India
Red Chili is a type of pepper used as a spice in cooking. It is a common ingredient that is used in many cuisines all around the world. It can be used fresh, dried, or in powder to add a spicy flavor to your recipes.
Chilli is the pride of India and has been the most important spice in the country for ages. It is the largest produced spice in India and is exported to over 144 countries in the world. The Dry red chilli exports from India account for about 22% of the spices exported. About 70% of the chilli produced in the country is consumed by the locals, while the rest, 30%, is exported to 144 different countries. Indian chillies, particularly the ones grown in the Guntur district of Andhra Pradesh, are mainly known for their pungency and colour. 

The most important chilli-growing states are Andhra Pradesh, Tamil Nadu, Karnataka and Maharashtra. Together, these states constitute nearly 75% of the area used in Chilli cultivation. Cultivation of chilli in the Kharif season is done between July and August, whereas, for the Rabi season, cultivation is done from October to November.
India is home to a wide variety of this spice. Eight of the most popular types of chillies grown, consumed and exported from India are Bhut Jolokiya from Northeast, Kashmiri Chillies, Guntur chilli from Andhra Pradesh, Jwala Chilli from Gujarat, Kanthari Chilli from Kerala, Byadagi from Karnataka, Ramnad Mundu from Tamil Nadu and Dhani from Manipur. 
Appearance And Other Qualities Of Chilli
Chilli serves the dual purpose of adding a spicy kick to the gravies and making it appetising to the eyes.  The pure chilli powder is bright red, which you will find at Vora Spice Mills LLP (VSM).  As one of the leading red chilli exporters in India, we at VSM leave no stone unturned in providing the highest quality chilli powder to your doorstep. 
The chilli powder is made from a variety of chillies. They may all be different in terms of colour, smell and taste, which is why there is no one way to determine the quality of the spice by just looking at it. However, if you want to inspect the quality, you can try the water test. Pure chilli powder has some oil content, making it insoluble in water. But if any artificial colour or adulterated content is present in chilli powder, the water will turn red or brown. You can also rub some chilli powder on the bottom of a glass; if you feel any grittiness, the chilli powder may have added impurities. 
The appearance of chilli powder depends widely on the type of chilli. Kashmiri Chilli is the darkest red colour of chilli powder produced in India. It is comparatively mild in flavour but gives a mesmerising red colour to the dish when used for cooking. 
Vora Spice Mills is India's fastest-growing red chilli manufacturer and exporter. We only provide the best quality chilli with 0% adulteration. It is sourced directly from the farmers retaining the spice's nutrients, colour and real essence. 
Sourcing and procurement of Chillies need to be free from allergens, harmful pesticides, impurities or any other form of adulteration that hampers the quality of the spice. As one of India's largest red chilli exporters, we ensure that our products are free from any added toxins. Red chilli produced by Vora Spice Mills is one of nature's finest produce. Chillies are thoroughly cleaned from impurities like dust, leaves, stems, stones, etc.
We are committed to providing only the purest form of spices to you. We ensure that every package of red chilli from Vora Spice Mills: 
It has no added colours or preservatives

 

It is freshly and locally sourced directly from the certified farmers

 

It is produced with utmost care and love

 

It is a fresh and premium quality

 
The natural form of red chilli powder is free from adulterations and has a long shelf life. It will stay fresh for up to two years when stored in an airtight container away from direct sunlight, moisture and heat. 
Vora Spice Mills is one of the industry leaders and among the largest red chilli suppliers in India.   All the spices we supply have been carefully grown under our expert supervision with the best in class technologies, so you can rest assured of getting only nature's finest produce. A group of highly trained farmers have been working with us for decades, helping us achieve the unmatched quality and integrity that comes second to none. 
Being the market leader in the food and beverage industry for decades, we understand the importance of quality and purity. Every package that leaves our manufacturing house is thoroughly tested with all the required industry standards. Our spices are subject to microbiological and chemical testing, ensuring no loss of nutrients in the manufacturing process, and all you get is 100% pure red chilli. Vora Spice Mills is certified by the Indian FDA authority and other relevant party licenses like GMP and HACCP programmes. All these years, our customers' satisfaction, pleasant experience and positive feedback have motivated us to always give our best.